Spring Felted Bag Exchange - part deux
Sheilah, you wonderful woman, you! Thanks for the loot.
Sheilah
is my spoiler. She sent me the most wonderful package this week. What a way to cap off my first big exchange project. To begin with, I had to wait an extra day for the package. It arrived on Thursday, but I missed the postal carrier. I think she just doesn't bother to knock on my door for me assuming I'm at work since I'm not here to receive packages during the school year. Grrr!
On Friday, I went to the post office to pick up Sheilah's package plus a couple of books I'd ordered (and the postal carrier didn't bother knocking on my door for this one either), and to send off Shawnee's package. I was
Shawnee
's spoiler. Once she receives her felted bag, I'll post pics of what I made her.
Let me tell you. Sheilah is one fine fiber friend. Check it out! Here's the bag she made for me.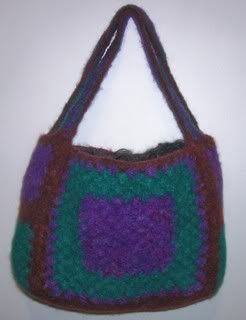 And here are some bonus goodies from Sheilah.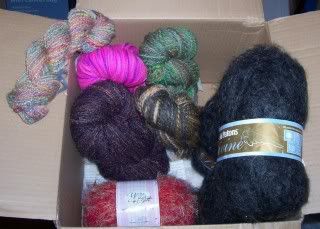 The yarn at the bottom of the picture is store-bought: Paton's Devine and Yarn Bee's Soft Delight. The bright pink/purple blend is some laceweight merino. The brown yarn just below the bright, bright pink is a brown mohair that Sheilah dyed with the remaining dye from my bag. The other three are random wool yarns.
I have to admit. This exchange was fun. I may have to do others.