First Official Weekend of Summer Vacation and...
I've started stitching like the yarn ho that I am.
I crocheted a skull potholder. I took the idea of the skullholder from the Stitch 'N Bitch Happy Hooker book and used this
graph
from the bag I made Sandra for her birthday. Methinks this will be the potholder I enter in the Lake County Fair.
I started working on Short 'n Sweet from the Stitch 'N Bitch Happy Hooker book about a week and a half ago. I chose dusty pink yarn because that's what I had at home and, truth be told, I needed to get rid of some stash yarn. I hope the pictures are clear enough. Taking pictures of yourself is a pain. My arm only stretches so far from my torso. The sweater isn't blocked yet because I was so excited to try it on and because I'm not really sure how to block it. I don't make garments very often.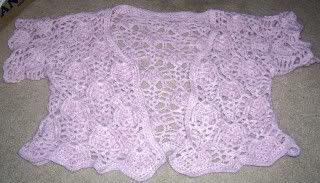 Left side...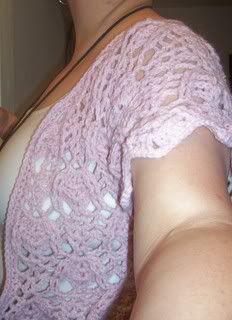 Right side...
I also started working on a scarf for the knitted scarf section of the Lake County Fair. It's the
Lace Leaves scarf
from HeartStrings FiberArts. The yarn is Lorna's Laces Shepherd Sport in Watercolor. I've completed 3 of 12 repeats.