Spring Felted Bag Exchange
I got my first package from my pal in the Spring Felted Bag Exchange. It's almost like the girl knew me! Here's a picture. The yarn is her own handspun wool/silk blend. It's 110 yards. I don't know what I'm going to make with it, but whatever it is, it will be for ME!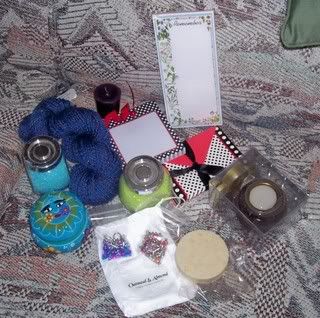 Just look at this gorgeous yarn!!
In addition, she sent some goodies for D, too. Here they are, yarn and stitch markers. He'll be so happy when I send them along.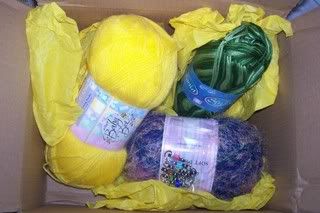 What I think is so funny about this package is the fact that I told Lisa that I wanted to Mex out my place. You know, give the decor a touch of my heritage. If you look closely at the lower left-hand corner, you'll see the ceramic jar that my pal used to hold the stitch markers she made me. It is so perfect for my decor plans. Check out the close-up.
Secondly, the notecards and notepad she sent (bottom row of items in the next pic) match perfectly with the notebook and pen that the PTA gave me for Teacher Appreciation Week.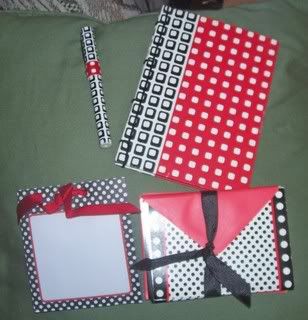 Spring Felted Bag Exchange Pal,
THANK YOU! THANK YOU! THANK YOU! The gifts were wonderful. I can't wait to start using them. You know, a knitter can't have too many stitch markers (especially if she's working on the clapotis). I love all the goodies. I used one of the notecards to explain to D why I'm sending this extra yarn to him along with the yarn he forgot at school on the last day. He'll be as thrilled as I am. Thanks again.