A Yarn Tasting Event at Loopy Yarns
I had no idea what a yarn tasting event was until Friday night. Loopy Yarns on State Street in Chicago hosted one that night. In a few words, the new yarns are placed into courses (like a fancy meal) and those in attendance receive about a yard's worth to try out. The hostess describes the yarn and suggested patterns. I had a great time. It was especially fun because I brought along D, the crochet fiend in my classroom. I took a few pictures to chronicle the day. I'm not sure exactly where D gets his yarn, but I believe he gets it at Walmart and from the stash I keep in the classroom. I thought he might enjoy trying out some good quality yarns so I invited him to join me. Here's the story...
I picked him up at about 4:15 PM so we'd have ample time to find a parking space and wait for the 4:47 PM South Shore train to Chicago. He brought along his ever-present yarntainer with two balls of yarn. However, he forgot his crochet hooks at school. The email from Loopy Yarns listed the knitting needles we should bring. I brought along my Denise interchangeables and two bamboo crochet hooks for D. I eventually let him keep them since he liked them so much. As soon as we boarded the train, he tried out the bamboo J hook on his yarn.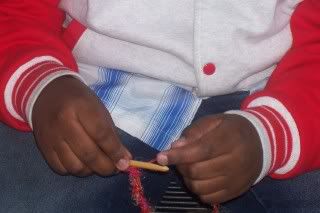 We decided to eat dinner next door to Loopy Yarns at a place called Pizza-Ria. D ordered sausage pizza.
I ordered a garbage salad that had at least 10 different items in it. We shared some boneless chicken wings.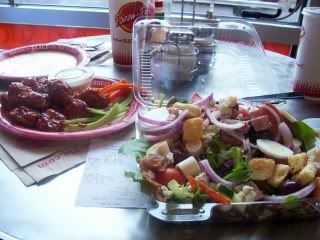 While I finished my salad, D checked out the jukebox. Here he is with his yarntainer in hand.
We had some time to kill so I taught him how to crochet a bobble stitch and make a granny square.
We walked next door just before 7:00 PM and browsed around while the earlier group finished tasting the yarns. D was in heaven. He said, "I think I need to come here more often!" We seated ourselves and I figured D would bust out the bamboo hooks to try the yarns; however, he said, "I think I want to learn knitting now." I let him borrow some size 8 needles from the Denise set and showed him how to do a cable cast on and the knit stitch. That boy got it within five minutes! He started stitching with the first two yarns he received. I got to try out the yarns without coaching him anymore.
Before we left I told him I"d treat him to some yarns. He opted for a skein of Checkenheaton Merino in red, a skein of of Plymouth Yarns Baby Alpaca DK in baby blue, and two skeins of Berroco Bonsai (a yarn we "tasted") in white and some rust color. He said he was going to use the Bonsai to make something for the Lake County Fair. Here's his haul. In all, it only cost about $20. Not bad since I've been known to drop four times that amount on myself.
On the train ride back, D couldn't wait to try out some of his yarn. He took out the K hook and started making a pillow with the Baby Alpaca.
He fell asleep with hook in his hand and I had to wake him when the train arrived at our destination. He said he had a good time. I told him that maybe we could go back on some other Friday for their open stitching night. He'd like that. I also told him to bring his yarn to school on Monday and I'll bring my yarn winder so we can wind the Bonsai before he uses it. I'll put a reminder on the bathroom mirror so I don't forget.