Another Washcloth and a Purse
I already posted a pic of this cloth in progress. Here's the final version. It has a red glow to it because I took the pic with my phone while in my car when I picked up my mom for our Friday dinner date.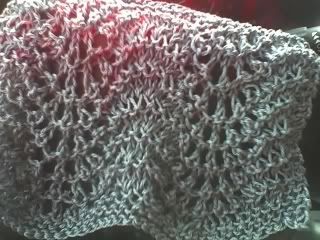 I gave it to my mom because she likes all my stuff. Maybe I'll make some more for the sisters for Mothers' Day. Now that I think about it, I need to find some patterns for Mothers' Day. Unoffficially, I'd like to make all my gifts for every giftgiving occasion this year.
This is a purse I made with some
Karaoke
yarn (Dipity 300) I got at Loopy Yarns.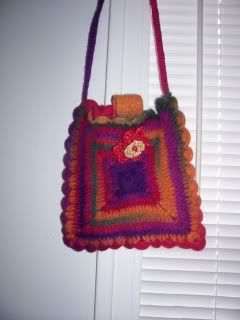 Somebody (Ruth?) at Get Stitchy! used Karaoke for a scarf and
some of the colors ran together
. My yarn was fine. I felted the purse and gave it to Glor before she went back to New Orleans.
Soon I'll be posting a pic of the cable footies from the book
One Skein
. I was going to make them for me but decided to give them to Lisa instead. I have one done and I'm on the heel of the other. I used some
self-striping Universal brand yarn
(color 9612) that I got at Loopy Yarns back in January for 70% off. I love a yarn bargain.