D, The Crochet Fanatic in Room 243
In December I taught my students to knit and crochet. Some have since abandoned the needlecrafts, but others have continued. D is one of those who continued. While I have a handful of girls who have gone on to make scarves and scrunchies, none of the boys have kept up the stitching. Save for one - D. D is one of those kids that has trouble when routines change. It is my understanding that in the past, if routines changed too much, D would vomit. Poor kid.
After mastering the chain and single crochet, D was in business. Literally. One of the first things he made was a purse originally intended for his mother. Another boy offered to buy it and promptly gave it to his girlfriend. Cha-ching! D just racked up his first sale.
One day on the busride to school, D dropped his ball of yarn. Of course, being on a moving vehicle, the yarn rolled around. Some other kids on the bus began kicking it around. D eventually got the yarn back, but not before the bus driver scolded HIM for causing a disruption! Never mind that the other kids chose to cause trouble instead of picking up the yarn and letting D be. The bus driver told D he couldn't bring yarn on the bus anymore. Ms. Sh and I decided that if D wants to take yarn on the bus, D can take yarn on the bus. I don't need to go into great detail here. Long story short...I ordered two
yarntainers
from amazon.com and had them delivered to D at school. Yarn-rolling-around-the-floor-of-bus problem solved. He ALWAYS has a yarntainer and a project with him. It's kinda cool.
During bathroom break about three weeks ago, D walks up to me in the hallway, hook attached to ball of yarn, and asks, "Do you know how to make a shell stitch?"
Soon after that, during another bathroom break, he walks up to me carrying a yarntainer of yarn and a binder open to a print out of a Lion brand free pattern for
fingerless mittens
. He declares that this is his next project. Never mind that spring it trying desperately to free us from the jaws of winter. D wants fingerless mittens. He walks up to me and says, "Can you help me get started with the ch 19 at the beginning of the pattern?" Here's a pic from that moment in crochet history.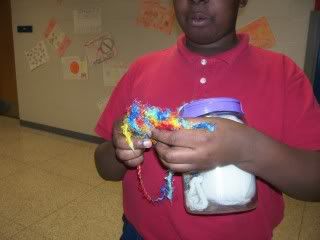 Tuesdays and Thursdays D has speech class. On Tuesday, we go to the computer lab right after D finishes speech. This week he walks over to his computer and starts opening the email I sent. As I scanned the class to see if everyone was on task, I look at D's hand. There it is. It's not quite the original pattern. Sitting on his right hand was one white wool fingerless mitten. So what if it's April! D wants fingerless mittens NOW! Here is a picture of Tuesday afternoon in the lab.